Learn More About the Wambale Mission
Wambale, Inc. was formed to provide the assistance necessary to create a sustainable living environment for the people living in Father Francis Mayinja's villages. We will accomplish this by providing a combination of the basic needs of education, water, agriculture, sanitation, and medical clinic facilities.
To this end, Wambale, Inc., a 501 (c)(3) corporation was created, dedicated solely to continuing this effort.
With a sustainable living environment in place by 2020, these villages will become model communities within the region.
Board of Directors:
Father Francis Mayinja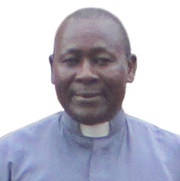 Father Francis was introduced to Father Brian Morrow in 2005 during a visit to the United States for a conference in Colorado Springs. Fr. Francis was hosted by Fr. Brian, who at that time was the pastor of St. John the Baptist Catholic Parish in Longmont. Fr. Brian and Fr. Francis recognized the opportunity to create a relationship between the parishes where God's desire for us to love one another can be put into action.
Fr. Francis, a native of Uganda, is instrumental in bringing a substantial improvement to the basic living conditions of the people of his country through the gifts, talents, and expertise of many generous individuals from Colorado and across the United States.
Education is the key solution to the improvement of many adjacent difficult factors in the lives of the Ugandan people. However, in order to provide that education, some of the other basic necessities of life require attention first. Clean water, sanitation facilities, medical clinics, agricultural solutions, and schools all contribute to the solution and physical well-being of the Villagers. The Catholic faith, spiritual growth and sacramental nurturing are all intertwined in various facets of the Wambale Catholic Mission.
Fr. Francis, a liaison in Uganda through the Wambale Catholic Mission, has been continuing to provide solutions and support to the people physically, practically and spiritually. And all outreach and prayers are deeply appreciated.
Jim Hepp


Late 2005 Jim received a get acquainted phone call from Fr. Francis. The following year they had a brief meeting in Longmont, Colorado. Fr. Francis stayed a short time at a local hotel. It took a few years to get acquainted, but Jim and Gayle Hepp finally invited Fr. Francis to share their home while he was in the United States. Since then they have become good friends.
In 2006, Fr. Brian, Ron Elsis, and Jim Hepp founded Wambale, Inc., a non-profit company formed to support Fr. Francis' efforts working with the poor people in Uganda. The primary goal is to provide a sustainable living environment for the people living in Father Francis' villages. The Wambale objective is to support the basic needs of education, water, agriculture, sanitation, and medical clinic facilities.
Jim Hepp was born in Denver and was raised on farms around Brighton, Colorado. Jim is the oldest of eleven children and is married to Gayle Mosnik. They have two children and four grandchildren.
Jim began his career in business in 1973 and has participated in or owned many Colorado-based companies. Jim is slowly working toward retirement and he enjoys golf, fishing, and travel.
Brian Morrow


Father Brian was introduced to Father Francis Mayinja in 2005. At that time, Fr. Brian was the pastor of St. John the Baptist Parish in Longmont and hosted Fr. Francis during his visit from Uganda to the US. It was a wonderful opportunity to 'adopt' Fr. Francis and the Wambale community as brothers and sisters in faith.
Fr. Brian believes living the virtue of charity includes providing financial support, giving our brothers and sisters hope by helping with education, sanitation facilities, medical clinics and most importantly, praying for their spiritual growth and well-being.
Scott Dunn


Scott graduated from the University of Colorado in 1988 with a B.A. in History and Political Science and earned his Juris Doctor in 1991 from the Catholic University of America in Washington, D.C.
After law school, Scott served as a Lieutenant in the U.S. Navy Judge Advocate General's Corps from 1992-1995. During his time in the Navy Scott served primarily as a Defense Counsel in Courts Martial. After completing his service in the Navy Scott moved to Longmont. Scott's practice focuses on real estate, business law, land use, estate planning and general and commercial litigation.
Scott is the Chairman of the City of Longmont Planning and Zoning Commission. He also serves on the Board of the John Paul II Adventure Institute and the governing board for the John Paul II Outdoor Lab and Camp Wojtyla. His expertise is offered to the Wambale Mission in the realms of land use, planning, business law and general litigation.
Ron Elsis


Ron met Father Francis back in 2006 while Father was making one of his first visits to St. John The Baptist Church in Longmont, CO. Ron was very moved by the plight of the children and the lack of basic water, sanitation, education, and medical needs being met. Ron truly believes that charity comes from the heart and the surrounding community.
Ron has over 30 years in a variety of business management experience that he brings in to the table in helping run Wambale, Inc.
Dwight Hanson


Dwight Hanson is Licensed Civil Engineer and had traveled to all of the sites supported by Wambale. Previous projects have concentrated on providing safe drinking water to clinics and schools.
The current project is to build out St. John's Primary School at Wambale so there will be enough students so it will be self-sustaining. To do this Dwight has been working with the Administration, Faculty, and the Villagers at Wambale to design a self-supporting school and safe water supply system for the Villagers.
Frank Pratte


Frank is a Licensed Electrical Consulting Engineer who has visited and worked at our sites in Uganda for upgrading photovoltaic power systems, on facility design, lightning protection, radio systems, medical equipment, and education of students and staff in energy usage.
Frank's avocation is agricultural and horticultural applications and had been involved in soil testing and water systems. Frank is semi-retired and devoted to the Wambale Mission effort.
John Williams


John Williams has been a diligent administrator and coordinator of the St John the Baptist Catholic Church Food Bank in Longmont for many years. He is responsible for the prudent distribution of the resources of the parish to those in need. As a direct result of his stewardship of the food donations made to St. John the Baptist, the parish is able to feed the poorest of the poor in the Longmont and surrounding community without turning anyone away.
Originally, in 2002, John Williams performed this ministry in a space the size of a closet. Over years of dedication and with the help of continued generous donations, prayers, and parishioner involvement, the Food Bank has grown into an integral, vibrant and essential ministry.
John and the Food Bank endeavor requires a dedication to prudent consideration of both the clients/recipients of the donated food and the volunteers that are instrumental in its distribution and efficiency. The Food Bank's success demands perseverance, organizational skills, unparalleled communication and empathy for all involved. These same attributes are offered by John to the Wambale Catholic Mission and the needs of Fr. Francis Mayinja in Uganda.